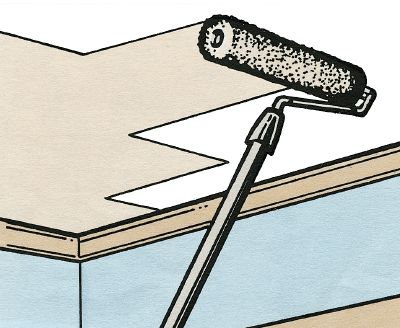 Nothing is more attractive to prospective renters than a freshly painted home. It is really a simple matter of mathematics, the square footage of walls and ceiling are up to five times that of the flooring, and dirty, chipped or stained walls can be a real turn off to renters. The problem is, painting a home's interior is expensive and often times totally unnecessary. In trying to determine whether or not to paint, consider the following;
·Is the current paint cohesive from room to room, or is it a hodgepodge of different colored walls? If there are several colors, or if the colors are strong, consider repainting the entire home with modern neutrals (any shade of beige, light taupe, pale grey, or cream) or use sunny pale yellows to brighten up a dark interior. Crisp white trim and ceilings will showcase the new paint and lend a clean and manicured air to the home. Try to avoid using any shade of white for the walls, a pale color gives the home a much more inviting and high end look.
·If the home's existing paint color is cohesive throughout, your next consideration should be the condition of the painted finish. Are the walls smooth with no old patches, areas of mis-matched texture, gouges or chipped paint? If there are damaged areas to the walls painting is a must! All damaged areas need to be repaired and primed prior to repainting.
·What type of paint is currently on the walls? If the existing paint is sound and undamaged, you may be able to refresh the current paint job with a thorough cleaning if the paint is a washable flat paint, satin or semi gloss. Try scrubbing one wall with a microfiber cloth and a cleaning mixture of sudsy ammonia and water. If the dirt comes off without removing the paint, a few hours of elbow grease ( or a good cleaning service) and the judicious use of a Magic Eraser for scuffs along with the ammonia and water may save you a pile of money by avoiding a repaint this time around. Just remember to rinse and pay special attention to baseboards and door jambs. If the trim is still looking dingy, you may need to repaint it, but this will be a fraction of the cost of a complete paint job. If the paint comes off with the dirt, you have no choice but to repaint, but if this is the case, you will save money next time by choosing to repaint with a good quality satin finish paint instead of the more usual flat finish. That way, the next time your house is vacant you should be able to simply wash the walls instead of painting. And remember to always use semi gloss for baseboards, doors and jambs.
·If you have small areas of damage, you may be able to "touch up" the paint and avoid a complete repaint. If you have some of the original paint you might be tempted to try just painting the places where you have repaired the damage. If the original paint job is older than 6 months, DO NOT do this! Even though you are using the same paint that is already on the wall, it is most likely the touch ups will show, due to fading or changes in the original paint. Instead of dabbing spots on the wall that can leave it looking like a Dalmatian, use the matching paint to paint the entire wall that was damaged. This will give you a clean and even finish. If you do not have any of the original paint, try having it matched at the paint store, but be sure to paint the entire wall, to avoid that spotty look.
An attractive paint job is more than a great first impression for prospective tenants. To them, it is a reflection of the type of home maintenance they can expect for the term of their lease.
© Sharon Mathers 2015